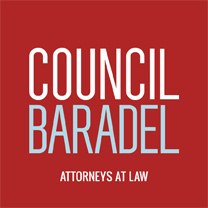 Business

Overview

It's our business to know yours.

In today's economy, clients seek counsel with a breadth of experience and a deep understanding of every aspect of corporate practice. Council Baradel's Business Team combines that knowledge with an intimate understanding of our clients' business goals to deliver creative and effective business solutions for companies across the State of Maryland and the Mid-Atlantic region.

Our Clients

Our clients represent nearly every segment of industry, including:

Banking and Finance
Insurance
Construction
Media
Retail & Hospitality
Healthcare
Manufacturing
Real Estate
Energy
Technology
Transportation

Clients look to our business team for strategic counsel for a variety of issues, including corporate matters, contracts, labor and employment, mergers and acquisitions, dispositions, debt and equity financing, real estate matters, bankruptcy, project and structured finance, and compliance.

Business Transactions

The focus in all business transactions is to develop and implement strategies for adding value based on appropriate structuring of the transaction while avoiding pitfalls. Our business team has extensive experience in the entire business "life cycle", including formation and organization of business entities, general corporate representation, debt and equity capitalization of business entities, commercial transactions, mergers, acquisitions and other business reorganizations, corporate, tax and business planning matters, shareholder rights issues, contract drafting and negotiation, and business dissolutions.

Business Litigation

Our litigation attorneys handle a wide variety of complex business issues for corporate clients and individuals locally, regionally, and nationally. Business litigation can be expensive and time consuming. We work with clients to identify and reduce litigation risks and costs, and to preserve important business relationships. Our goal is to blend an effective trial strategy with business pragmatism to achieve favorable results for our clients. Council Baradel's business litigation attorneys have extensive experience representing clients in federal and state courts, administrative proceedings, arbitration panels, and other alternative dispute resolution tribunals.


Please send us an email and one of our attorneys will be in contact with you in a timely manner.

Attorneys
© 2023 Council, Baradel, Kosmerl & Nolan, P.A. All Rights Reserved.