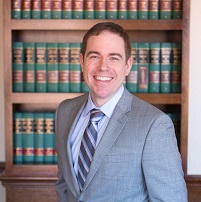 Partner
T410-268-6600 ext(3452)
F410-269-8409
Bar/Court Admissions

Maryland, 2010
U.S. District Court for the District of Maryland, 2011
U.S. Court of Appeals for the Fourth Circuit, 2011
U.S. District Court for the District of Columbia, 2014

N. Tucker Meneely
N. Tucker Meneely has extensive experience in complex civil litigation matters and appeals. Tucker's litigation practice focuses on contract disputes, business torts, professional negligence litigation, residential and commercial landlord-tenant matters, estate and trust litigation, libel and slander litigation, employment disputes, and real estate litigation. A former appellate law clerk, Tucker is a leader in Council Baradel's appellate practice, handling civil appeals in state and federal courts. His work also includes contract drafting and negotiation, preparation of business governance documents and general counsel work. Tucker works closely with the firm's estate planning, real estate, and transactional practice groups, drawing on his litigation background to provide strategic counseling and litigation support to Council Baradel's diverse array of clients. Tucker strives to achieve efficient, favorable results for his clients by bringing a creative and pragmatic approach to each case.
Tucker graduated from the University of Baltimore School of Law, magna cum laude, where he received the Dean's Citation for Service and was inducted into the Heuisler Honor Society. During law school, he served as the Editor-in-Chief of the University of Baltimore Law Forum. Tucker holds a bachelor's degree in business administration from Drexel University, where he was a member of the men's lacrosse team.
Tucker is responsible for the Council Baradel Law Clerkship program, which provides law students the opportunity to develop professional legal skills with practicing lawyers. Tucker frequently writes for area legal publications. He was a regular contributor to The Daily Record's Generation J.D. blog, where he shared practice tips as well as his experiences as a young lawyer balancing work and family life. He has also contributed to The Barrister, the newsletter of the Anne Arundel Bar Association, and the Maryland Litigator, the newsletter of the MSBA Litigation Section.
Tucker serves the community as a Board Member of The Bill Sweeney Perinatal Care Fund. A native Annapolitan, Tucker resides in Anne Arundel County with his wife and three children.
Professional Associations
Anne Arundel County Bar Association
Maryland State Bar Association
Representative Matters
Brusznicki v. Prince George's County, 42 F.4th 413 (4th Cir. 2022)
Mayor & City Council of Baltimore v. Thornton Mellon, 478 Md. 396 (2022)
Ty Webb LLC v. Mayor & City Council of Baltimore, 251 Md. App. 32 (2021)
Mayor & City Council of Baltimore v. Thornton Mellon, 249 Md. App. 231 (2021)
Harleysville Preferred Insurance Company v. Rams Head Savage Mill LLC, 237 Md. App. 705 (2018)
Precision Small Engines v. College Park, 457 Md. 573 (2018)
Sage Title Group, LLC v. Roman, 455 Md. 188 (2017)
City of College Park v. Precision Small Engines, Inc., 233 Md. App. 74 (2017)
Roman v. Sage Title Group, LLC, 229 Md. App. 601 (2016)
Community Involvement
Woodswise: The Severna Park Elderly Housing Corporation – Board of Directors (2016-2022), President (2019-2022)
The Bill Sweeney Perinatal Care Fund – Board of Directors
Anne Arundel County Volunteer Center – Board of Directors (2016-2019)
Annapolis Rotary Club – Member (2011-2015)
Honors / Awards
Whats Up? Annapolis Magazine Leading Lawyer (2016-2022)

Appellate Law & Litigation

Super Lawyers (2014-2023)

Appellate Law & Litigation

Maryland Bar Foundation
Publications
Education
University of Baltimore School of Law (J.D., magna cum laude, 2010)

Heuisler Honor Society
Dean's Citation for Outstanding Service to the School of Law

Drexel University (B.S., 2002)
Practice Areas