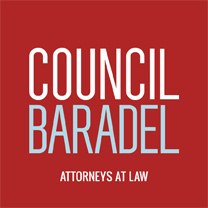 Six Council Baradel Attorneys Named 2016 Maryland Super Lawyers.

December 31, 2015

Six Council Baradel attorneys have been recognized by Super Lawyers as among the top attorneys in Maryland for 2016, an honor bestowed to no more than five percent of the lawyers in the state. In addition, four attorneys at Council Baradel were named as Rising Stars by Super Lawyers, which lists the top up-and-coming attorneys in the state who are under 40 years old or have been practicing law for 10 or fewer years.

Council Baradel's 2016 Maryland Super Lawyers:

Council Baradel's 2016 Maryland Rising Stars:

Super Lawyers identifies candidates who are evaluated on professional achievement and peer recognition. The 2016 selections will be published in the Maryland Super Lawyers Magazine as well as in the January 2016 edition of Baltimore Magazine.
© 2023 Council, Baradel, Kosmerl & Nolan, P.A. All Rights Reserved.