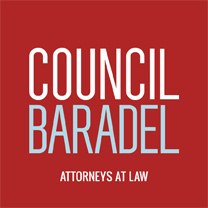 Council Baradel Elects Lee Ann Adams and Elizabeth A. Pfenson as Partners

January 4, 2021

Council Baradel is pleased to announce that Lee Ann Adams and Elizabeth A. Pfenson have been elected as partners of the firm effective January 1, 2021.

"The elevation of Lee Ann and Elizabeth to Partners of Council Baradel is a recognition of their hard work and dedication to the firm and our clients. They are not only committed to contributing to our firm's success, but to strengthening Council Baradel for the future and enhancing our collegial culture," said Stephen A. Oberg, Managing Partner. "We're looking forward to the positive impact they will continue to have as partners and leaders in our firm."

Lee Ann Adams focuses her practice on business transactions, banking and finance, real estate and litigation. Lee Ann counsels businesses during all stages of its lifecycle, from formation to dissolution to include issues that may arise in between. Lee Ann's practice also includes commercial and residential real estate settlements which encompasses drafting and reviewing purchase and sales agreements, deed preparation, property transfers, reviewing mortgage and other financial documents, conducting closings, and title insurance.

Elizabeth A. Pfenson focuses her practice on family law and related appellate matters. Elizabeth understands that every situation is different as she helps clients achieve their best outcome from the beginning to end of their case. Her clients appreciate her attention to detail and thorough approach, as she assists clients with their sensitive and complex financial and family situations. Knowledgeable, yet down to earth, Elizabeth understands that, when clients work with her, they are often experiencing some of the most difficult moments in their lives. She seeks to lend her strength, knowledge, and professionalism to her clients as they navigate the intersection between their personal lives and the legal system.
© 2023 Council, Baradel, Kosmerl & Nolan, P.A. All Rights Reserved.