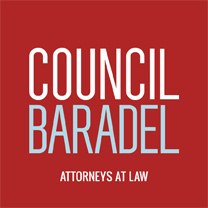 Partner

T410-268-6600 ext(3414)

F410-269-8409

Bar/Court Admissions

Joseph F. Devlin

Joseph F. Devlin is a partner of Council, Baradel, Kosmerl & Nolan, P.A.

Mr. Devlin's practice focuses upon all facets of real estate and land use, including contracts, zoning, planning and litigation, as well as civil and criminal litigation.

Mr. Devlin was Chief of the Diversionary Division of the Anne Arundel County State's Attorney's Office while in law school focusing, in part, upon building, zoning and health code matters. Upon graduation, he became a Law Clerk to the Honorable Charles E. Moylan of the Maryland Court of Special Appeals. Mr. Devlin has been in private practice since 1986 representing individuals, families and businesses throughout the Chesapeake Bay area.

Mr. Devlin has lived in Annapolis since 1966 and is very active in the local community. He is a board member of the Boys & Girls Clubs of Annapolis & Anne Arundel County, a former member of the Board of Trustees of St. Mary's Schools, a past president of the Annapolis Touchdown Club, and a former director of U.S. Lacrosse. Recognized as a Distinguished Alumnus of St. Marys High School, he is also a member of the school's Athletic Hall of Fame.

A graduate of the Johns Hopkins University, Mr. Devlin was a member of the 1978 NCAA Championship Lacrosse team and was an assistant coach on Hopkins' national championship teams in 1984,1985 and 1987.

Mr. Devlin was admitted to the Maryland bar in 1985.

Professional Associations

Maryland State Bar Association

Anne Arundel County Bar Association

Community Involvement

Boys & Girls Clubs of Annapolis & Anne Arundel County - Board Member

Honors / Awards

Whats Up? Annapolis Magazine Leading Lawyer in Zoning, Planning and Land Use 2016-2021

Education

University of Baltimore School of Law (J.D., with honors, 1984)
Johns Hopkins University (B.A., 1978)

Practice Areas
© 2023 Council, Baradel, Kosmerl & Nolan, P.A. All Rights Reserved.