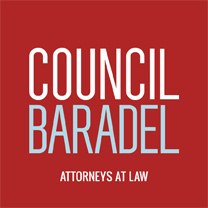 Family Law

Overview

Experienced and empathetic.

The process of separation and divorce can be one of the most daunting and challenging episodes of one's life, both emotionally and financially. The decisions one makes in family law matters are often life-changing and irreversible. This area of the law includes:

Divorce
Annulment
Domestic violence
Alimony
Child custody
Child support
Equitable distribution of marital property
Tax implications related to a separation or divorce

The importance of being represented by empathetic, responsive, and experienced counsel in this difficult area of practice cannot be overemphasized.

Council Baradel has a number of attorneys who concentrate their practices in family law and are well-known and respected in the legal community, the professional community, and the community-at-large for their sensitivity to their client's needs, their common sense and knowledge of the law, and their success in negotiating and litigating in the complex field of domestic relations. Our attorneys have guided hundreds of clients through these difficult life transitions with great success and satisfaction.

Before choosing an attorney to guide you through this process, it is prudent to ask former clients as well as other attorneys in the legal community about the reputation of the attorney you are considering - once you do so, we are confident that our attorneys will come well-recommended to your needs. We also represent clients in sensitive matters relating to guardianship and adoption.


Please send us an email and one of our attorneys will be in contact with you in a timely manner.

Attorneys
© 2023 Council, Baradel, Kosmerl & Nolan, P.A. All Rights Reserved.