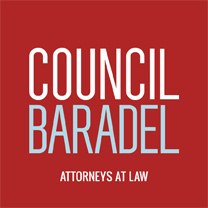 John J. Doud Appointed President-Elect of Anne Arundel Bar Association's Board of Directors

July 17, 2019

Council Baradel is proud to announce that John J. Doud has been appointed President-Elect of the Anne Arundel Bar Association's Board of Directors for the 2019-2020 term.

John focuses his practice on criminal defense, plaintiff's personal injury and general civil litigation. With a decade of experience, John handles criminal matters involving felony and misdemeanor offenses at the trial and appellate levels, as well as juvenile delinquency matters, in all State and Federal courts in Maryland. John's plaintiff's personal injury practice is devoted to helping those who are injured as a result of an automobile accident. He helps the individuals and their families recover compensation to cover the wide-range of financial issues one faces as a result of another person's negligence.

John is an active member of both the Anne Arundel Bar Association and the Maryland State Bar Association, and is a member of the Anne Arundel County Local Pro Bono Committee. He also serves as a member of the AABA Softball League Committee.
© 2023 Council, Baradel, Kosmerl & Nolan, P.A. All Rights Reserved.