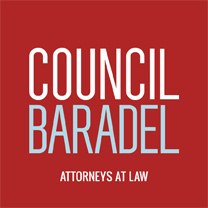 Municipal & Municipal Finance Law

Overview

All over town.

Council Baradel's attorneys are consistently recognized as among the best in Maryland in matters involving local governments. We are very familiar with federal, state and local laws affecting local government operations and we provide a full range of advice and services to local governments, taxing districts and government agencies across Maryland, and to individuals and businesses that deal with or are affected by local government.

Serving our Clients

Our attorneys serve as general counsel to more than 15 Maryland cities and towns and provide specialized legal services to others. Over the past 35 years, our attorneys have successfully litigated and argued important constitutional and governmental issues in state and federal trial and appellate courts. We have also served as counsel to borrowers in public finance transactions, and have issued opinions and assisted with the issuance of various local government bonds and other obligations. Finally, we have served on numerous boards and commissions to study and advise on different aspects of municipal finance.


Please send us an email and one of our attorneys will be in contact with you in a timely manner.

Attorneys
© 2023 Council, Baradel, Kosmerl & Nolan, P.A. All Rights Reserved.