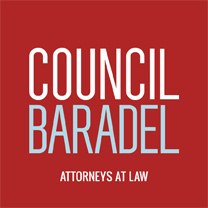 Ronald A. Baradel Recognized by Best Lawyers® 2017

August 15, 2016

Council Baradel is pleased to announce that Ronald A. Baradel has been selected by his peers for inclusion in The Best Lawyers in America 2017® edition. Ron has been recognized by Best Lawyers® six years in a row.

For over 30 years, Best Lawyers® has been regarded by both the legal profession and the public as the definitive guide to legal excellence in the United States. The 2017 Best Lawyers® list is based on an extensive national survey involving over 7.3 million detailed evaluations of leading lawyers by their peers. If the votes for an attorney are positive enough for inclusion, that attorney must maintain those votes in subsequent polls to remain on the list for each edition. Lawyers are not permitted to pay any fee to participate in or be included on the lists.
© 2023 Council, Baradel, Kosmerl & Nolan, P.A. All Rights Reserved.