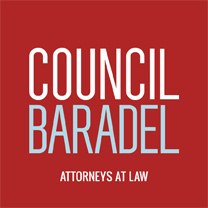 Tucker Meneely elected to the Anne Arundel County Volunteer Center Board of Directors

July 27, 2016

Council Baradel's N. Tucker Meneely was recently elected to the Board of Directors of the Anne Arundel County Volunteer Center (AACVC), the premier volunteer connector in Anne Arundel County and the City of Annapolis.

"As a native Annapolitan, giving back to the community that raised me is tremendously important to me," said Meneely. "I am honored to have the opportunity to contribute to an organization that works tirelessly to strengthen Anne Arundel County and improve the lives of those who live and work here."

Tucker's election to the AACVC Board of Directors continues Council Baradel's long-standing relationship with the organization; Council Baradel directors Michael Russo, Jr. and Susan Wyckoff previously served as members of the AACVC Board of Directors, Susan Wyckoff serving as President.

The AACVC annually helps more than 4,000 individuals, families, corporate and community groups find volunteer opportunities at over 360 community organizations. The volunteers create more than $2 Million of value added to the community in volunteer time per year.
© 2023 Council, Baradel, Kosmerl & Nolan, P.A. All Rights Reserved.