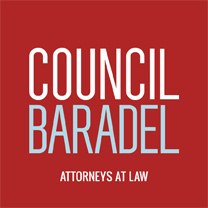 Welcome

Council Baradel is one of the region's premier law firms and prides itself on the Energy, Depth and Experience it brings to the representation of its many clients. With established roots in Annapolis and Anne Arundel County, our attorneys are active leaders, counselors, and participants in an extensive number of bar associations, business groups and civic organizations that make a difference in the city, county and state.

Energy is embodied in a host of attorneys and staff who offer innovation, enthusiasm, technological savvy, and cost-efficient legal services to our clients. Several of these attorneys began their professional careers only a few years ago as judicial law clerks at the trial and appellate levels and are intimately familiar with the workings of the local legal system, as well as the administrators and court personnel who make the system work.

Depth of the firm is obvious in the wide variety of services and areas of concentration offered by our attorneys. These areas include administrative, zoning and land use, family law and divorce, business formation, defense of criminal and traffic offenses, personal injury, insurance defense, business and contract disputes, as well as municipal law, estates and trusts, employer-employee matters, real property and title litigation. There are few areas of the law affecting your life or your business in which our array of attorneys can't assist you or steer you in the right direction.

Experience is one of the firm's proven strengths, boasting a number of highly peer-rated and highly skilled attorneys who have been in the practice of law for more than thirty or forty years, who have confronted and guided clients through nearly every kind of legal situation imaginable, and who lend their years of experience directly to our clients, and to the younger attorneys and staff members to the benefit of our clients.

In extending our legal experience to businesses, individuals, associations, and governments, we are committed to providing each of our clients with thorough, professional and cost-efficient services. The makeup of our firm permits us to work with you to come up with solutions borne of an extensive knowledge of the law, a history of facing similar challenges, and the ability to put the right people in place for you and your legal budget.

From our central Maryland location in the heart of the State Capital, we proudly serve clients throughout the Baltimore-Washington metropolitan area, Southern Maryland and the Eastern Shore, and our attorneys engage in trial practice in all county, state and federal courts in Maryland and the District of Columbia.
© 2023 Council, Baradel, Kosmerl & Nolan, P.A. All Rights Reserved.