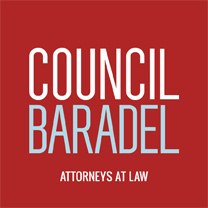 Briana C. Hulseman Joins Council Baradel's Family Law Practice

January 6, 2023

Council Baradel is pleased to announce that Briana C. Hulseman has joined the firm as family law associate.

Briana's practice includes helping individuals and families through divorce, child custody, child support and domestic violence. Her passionate and empathetic approach makes her clients feel comfortable throughout a challenging period in their lives.

Prior to joining Council Baradel, Briana worked for a private practice firm specializing in family law. Before entering private practice, she clerked for the Honorable Donna M. Schaeffer of the Circuit Court for Anne Arundel County. While clerking for Judge Schaeffer, she participated in the drafting and editing of various criminal and civil opinions.

Briana graduated cum laude from the University of Maryland Francis King Carey School of Law in 2021. During law school, she was an intern for the Honorable Brynja M. Booth of the Maryland Court of Appeals. She graduated summa cum laude from Loyola University, Maryland in 2018, having majored in Accounting, with a minor in Spanish. She can be reached at [email protected] or 410-268-6600.
© 2023 Council, Baradel, Kosmerl & Nolan, P.A. All Rights Reserved.