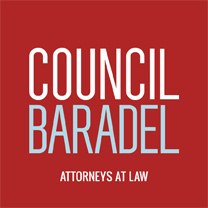 Brian S. Burkett Admitted to Practice Law in the District of Columbia

April 26, 2019

Council Baradel is pleased to announce that Brian S. Burkett has been admitted to practice law in the District of Columbia. Brian is an associate focusing his practice on general civil litigation, real property litigation, and commercial and business law.

Brian advises clients throughout the litigation process, and regularly advises businesses and individuals on business organization and commercial transactions. Brian graduated from the University of Maryland Francis King Carey School of Law, and he received his B.S. from Purdue University. Previously, as an analyst and a manager at a home medical equipment company in Chicago, Illinois, and later a sales manager leading team strategy for Transamerica Agency Network in Bowie, Maryland, Brian acquired high-level exposure to executive decision-making, mergers, and real-world business training.
© 2023 Council, Baradel, Kosmerl & Nolan, P.A. All Rights Reserved.