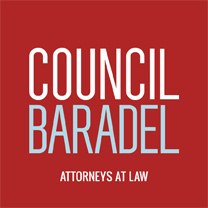 Disclaimer

The materials contained in this World Wide Web site have been prepared by Council Baradel Kosmerl & Nolan, P.A. ("Council Baradel"), for informational purposes only.

The information contained in this site is general in nature and may not apply to particular factual or legal circumstances. The Web site materials are not intended to create an attorney/client relationship between you and Council Baradel, and receipt of information from this site does not constitute an attorney/client relationship. Internet subscribers and online readers should not act upon any information from this Web site without seeking professional counsel. Council Baradel makes no representations or warranties with respect to any information, materials, or graphics in this Web site, all of which is provided on the strictly as-is basis, without warranty of any kind. This Web site contains links to other resources on the internet. Those links are provided as aids to help you identify and locate other internet resources that may be of interest, and are not intended to state or imply that Council Baradel sponsors, is affiliated with, or is legally authorized to use any trade name, registered trademark, logo, legal or official seal, or copyrighted symbol that may be reflected in the links. If you contact us through this Web site concerning a matter for which we do not already represent you, this communication may not be privileged or confidential. If you email us concerning matters for which we already represent you, please be advised that internet email is not always secure, and thus you should avoid sending confidential messages. Council Baradel sometimes uses titles such as "Partner" to describe a Director or other employed attorney of the firm. The use of titles such as "Partner" is not meant to suggest the firm is a Partnership. Council Baradel is a Maryland Professional Service Corporation incorporated in 1982.

In some jurisdictions, this World Wide Web site may be considered advertising. Council Baradel has endeavored to comply with all known legal and ethical requirements in compiling this World Wide Web site. Council Baradel does not desire to represent clients based upon their review of any portions of this World Wide Web site that do not comply with legal or ethical requirements.
© 2023 Council, Baradel, Kosmerl & Nolan, P.A. All Rights Reserved.