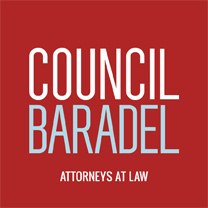 Careers


Council Baradel Culture


Our most valuable asset is our people. Each client's success is dependent on the collective efforts of our attorneys and support staff, and we believe our diverse backgrounds and proficiencies are an advantage to our clients. The makeup of our firm permits us to collaborate with our clients to come up with solutions borne of an extensive knowledge of the law, a history of facing similar challenges, and the ability to put the right people in place within the right legal budget. We are committed to providing a culture of mutual respect and integrity, both inside and outside of work.

Quality of life is a top priority for us. We recognize that a proper balance between the devotion of time and energy to work and the devotion of time and energy to family, recreational pursuits, and self-improvement is essential to the development of a happy, healthy and productive individual. We endorse actions that are consistent with a relaxed and positive outlook toward the practice of law, including realistic expectations for individual job performance and time commitment, the taking of regular time out of the office, and an overall commitment to supporting and assisting each other as needed to maintain our reputation for superior legal work.

We asked our employees to describe Council Baradel's culture in one word:




---


Current Openings

Council Baradel continually seeks attorneys and professional staff who can contribute depth to existing practice groups, complement and enhance our culture, or provide new perspective to the firm. Applications can be sent in confidence to [email protected].


Law Clerks
Council Baradel offers a law clerk program for current law school students and recent graduates. We post our current job openings on local law schools' online career portals. Please apply via your school's online portal, or send your resume, transcript, references and writing sample to [email protected].

---

Council Baradel is committed to providing equal employment opportunity to all employees and applicants for employment without regard to race, color, religion, creed, ancestry, national origin, sexual orientation, sex, gender, gender identity, gender expression, physical or mental disability, genetic information, age, marital status, status as a veteran or disabled veteran, status with regard to public assistance or any status protected by applicable law.
© 2023 Council, Baradel, Kosmerl & Nolan, P.A. All Rights Reserved.