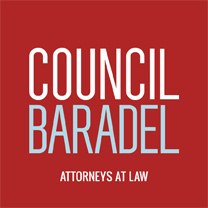 Partner

T410-268-6600 ext(3412)

F410-269-8409

Bar/Court Admissions

Maryland, 1988
District of Columbia, 1990
New York, 2000
Virginia, 2018

Michael N. Russo, Jr.

Michael N. Russo, Jr. is a partner of Council, Baradel, Kosmerl & Nolan, P.A. and serves as the firm's Chief Financial Officer.

Mr. Russo's practice includes real estate title litigation, insurance law, real property and general civil, commercial and business law. His clients include real property title insurance and general liability insurance companies and self-insured companies; financial and lending institutions; and, small and medium sized businesses requiring general business planning and legal advice. Mr. Russo also represents individuals in business and real property disputes and other legal matters.

Mr. Russo began his career as a Law Clerk to the Honorable H. Chester Goudy, Jr. of the Circuit Court for Anne Arundel County. Since 1989, Mr. Russo has been in private practice.

Mr. Russo participates in numerous professional and civic associations in his industry and community.

Mr. Russo has been a presenter and instructor at continuing professional education and continuing legal education courses. He has also completed the Northwestern University Mediation Training Program.

He is admitted to practice law in Maryland, the District of Columbia, New York, and Virginia. He is also admitted to practice law in numerous federal trial and appellate courts.

Honors / Awards

Whats Up? Annapolis Magazine Leading Lawyer in Real Estate Law 2016-2021

Super Lawyers - 2019-2023

Professional Associations

District of Columbia Land Title Association (DCLTA) – Past President
American Land Title Association (ALTA)

Title Counsel
Claims Administration Committee
Liaison Committee with the National Association of Insurance Commissioners (NAIC)

American Bar Association

TIPS Section
Title Litigation Committee

Maryland Land Title Association – Past Member Board of Directors,
Maryland State Bar Association

Section Council to the Business Law Section (Representative, 2002-2004)

District of Columbia Bar Association
New York State Bar Association
Virginia State Bar Association
Claims & Litigation Management Alliance (CLM)

Community Involvement

Maryland Affordable Housing Association (MAHT) – Trustee (Governor Appointed)
Leadership Anne Arundel – Flagship Class of 2001; Board Member 2021 to present
Arts Council of Anne Arundel County – Board of Directors, Past President; Board Member 2013 to 2021; President 2018 to 2020
United Way of Central Maryland, Community Partnership Board of Anne Arundel County – Board of Directors
Volunteer Center for Anne Arundel County, a non-profit association "Helping People Volunteer" – Board of Directors 2003-2009

Selected Speaking/Teaching Engagements

"Navigating Cyber Insurance" – ALTA Springboard Bootcamp Meeting, American Land Title Association (ALTA) Raleigh, North Carolina (April 2018); Chicago, Illinois (April 2019)
"Make Business Practices Insurance Work for You" – Annual Meeting, American Land Title Association (ALTA) Los Angeles, California (October 2018)
"On Trial: The Non-Compliant Settlement Agent." – ALTA Springboard Bootcamp Meeting, American Land Title Association (ALTA) (Indianapolis, IN (2016)

Representative Matters

Represented National and Regional Title Insurance Underwriters in broad range of coverage and claims matters with exposures in excess of one hundred million dollars.
Represented buyers and seller in sale of apartment buildings in the District of Columbia including compliance with the Tenant Opportunity to Purchase Act ("TOPA").
Represented Condominium Builders and Unit Owners in warranty and construction litigation.
Represented settlement companies in business management, ALTA Best Practices and their relationships with their customers and underwriters.
Represented franchised automobile dealers in their relationships with their customers, government regulators, business practices, franchisors and lenders.
Represented automobile financial institutions in developing their regulatory compliance program, defending against claims of lender liability and commercial enforcement litigation.
Represented buyers and sellers in Real Estate transactions and litigation.
Represented individuals and small companies in business organization, start up and management issues.

Selected Reported Decisions

York Roofing, Inc.

v. Adcock, 634 A.2d 39, 333 Md. 158 (Md. 1993)

Heat

& Power Corp. v. Air Products & Chemicals, Inc., 578 A.2d 1202, 320 Md. 584 (Md.1990)

Superior Bank, F.S.B. v. Tandem Nat. Mortg., Inc.,

197 F.Supp.2d 298 (D. Md. 2000)

Miller v. Ryder Truck Rental, Inc.,

198 F.R.D. 70 (D. Md. 2000)

Trustee

1245 13th Street, NW No. 608 Trust v. Anderson, 905 A.2d 181 (D.C. 2006)

In

re Williams, 400 B.R. 47 (Bankr. Md. 2008)

Wilder v. Toyota Motor Credit Co,

. 290 Fed .Appx. 601 (4th Cir. 2008)

Juergens v. Urban Title Services, Inc. ,

533 F.Supp.2d 64 (D. DC 2008); 652 F.Supp.2d 40 (D. DC 2010); 689 F.Supp.2d 94 (D. DC 2010); 770 F.Supp.2d 227 (D. DC 2011)

Alcazar Tenants' Ass'n v. Smith Property Holdings, L.P.,

981 A.2d 1202 (D.C. 2009)

Steward v. Moskowitz,

5 A.3d 638 (D.C. 2010)

In

re Ostroff, 433 B.R. 442 (Bankr. DC 2010)

Bopp v. Wells Fargo Bank, N.A. ,

740 F.Supp.2d 12 (D. DC 2010)

Han v. Southeast Academy of Scholastic Excellence Public Charter School,

32 A.3d 413 (D.C. 2011)

OneWest Bank, FSB v. Marshall

, 18 A.3d 715 (D.C. 2011)

Robinson v. Georgetown Court Condo., LLC

, 39 A.3d 1286 (D.C. 2012)

In re Stevenson

, 519 B.R. 881 (Bankr. DC. 2014)

U.S. Bank, NA, v. 1905 2nd Street NE, LLC, 85 A.3d 1284 (DC 2014.)

Coleman v. Toyota Motor Credit Corporation

, 109 F.Supp.3d 4 (D. DC 2015)

Saunders v. Hudgens

, 184 A.3d 345 (DC 2018)

Board of Trustees Grand Lodge of Independent Order of Odd Fellows of District of Columbia v. Carmine's DC, LLC

, 225 A.3d 737 (DC 2020)

Education

Catholic University of America School of Law (J.D., 1988)
Lafayette College (B.A., 1985)

Practice Areas
© 2023 Council, Baradel, Kosmerl & Nolan, P.A. All Rights Reserved.